Events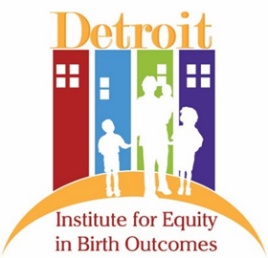 Detroit Institute for Equity in Birth Outcomes (DIEBO)
Vision Statement
Detroit is an epicenter of vitality, and a city that considers all families in all policies. Interconnectedness, cooperation and respect are core community values. Policies and practices across all sectors and institutions promote individual and collective health, and are sustained by meaningful collaboration. Every woman, infant, child, and family is valued. Families have sufficient resources to support their spiritual, mental, emotional, and physical well-being; and have equitable opportunities and access to housing, safety, education, information, quality health and child care.
The Detroit Institute for Equity in Birth Outcomes (DIEBO) is a sub-committee of the Detroit Regional Infant Mortality Reduction Task Force and is part of a Kellogg- funded, national effort led by City MatCH to address racial and ethnic disparities in birth outcomes.
DIEBO is a collaborative with membership from health, human services, education, government, civic organizations, community based organizations, third party payors, advocacy groups, and community residents that depends on active partnerships. The collaborative is co-led by 3 agencies, Henry Ford Health System's Detroit Regional Infant Mortality Reduction Task Force (DRIMRTF), the Detroit Health Department (DHD), and the Institute for Population Health (IPH). The DRIMTF is the convener, bringing key decision makers to the table; DHD is the official agency, providing government resources and political will; IPH is the backbone agency, providing administrative support, data analysis, and reporting.
Using the collective impact framework, DIEBO has identified Upstream and Downstream initiatives to achieve their goals. The Downstream initiative is establishing Detroit as a 'Baby Friendly' city focusing on facilitating the adoption of Baby Friendly practices among community prenatal service providers. The Upstream initiative will focus on increasing the number of businesses with family friendly policies and practices.
To be successful, DIEBO needs to expand its membership to bring the full range of voices, resources, opinions, experiences, and expertise that is Detroit. To become involved, offer your insights, or learn more about DIEBO, contact:
Rebeca Guzmán – rguzman@ipophealth.org
Armenta Garland – agarland@ipophealth.org
Jaye Clement – CLEMEN1@hfhs.org
Courtney Latimer – clatime1@hfhs.org
Yolanda Hill Ashford – hillashfordy@detroitmi.gov
Sandra King – kingsa@detroitmi.gov
Meeting schedule for 2016:
July 14, 2016               5:00 pm – 7:00 pm     HFHS 1Ford Place
August 11, 2016         12:00 pm – 2:00 pm    IPH 1400 Woodbridge
September 8, 2016      5:00 pm – 7:00 pm      HFHS 1Ford Place
October 13, 2016        12:00 pm – 2:00 pm    IPH 1400 Woodbridge
November 10, 2016    5:00 pm – 7:00 pm      HFHS 1Ford Place
December 8, 2016      12:00 pm – 2:00 pm    IPH 1400 Woodbridge
IPH Healthy Start Detroit Community Action Network (CAN)
The IPH Healthy Start Detroit Community Action Network (CAN) was established in part to help decrease the rate of infant mortality in Detroit through collect impact. The CAN enables community agencies, partners and community members to come together to discuss outstanding needs and identify solutions to address the barriers preventing those needs from being met.  The CAN is currently exploring social determinants of health and how those unmet needs affect more than physical health.  Meetings are held on a monthly basis, the next meeting is Wednesday, July 20th from 9:30-11:00am at 9350 Woodward, Detroit, MI 48202.  To become involved with the Collective Impact work we're doing, please contact Aimee Surma, Health Start Program Evaluator at 313. 309. 9300 ext. 1319 or asurma@ipophealth.org.